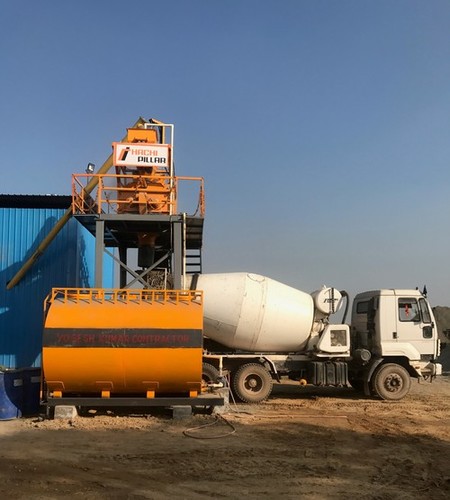 Stationary Ready Mix Concrete Plant
Product Code : 20
Product Description
Stationary Ready Mix Concrete Plant
Salient feature
Concrete Batching/Mixing Plant available in 45 to 240 m3/Hr. capacity.
Aggregate stored by inline bins.
Aggregate weigh is suspended on for "s" Type load cells, gives higher accuracy.
Independent weighing system for aggregate / cement /water & additive.
Fully automatic electronic operation with PLC & PC control.
Required installation time is very less, due to modular design.
Available with single shaft /Twin shaft /Pan/Planetary type mixers.
Reliable fast and Accurate Electronic weighing system for major inputs.
Full service, technical support and spares back-up.
Optional
Cement /Fly ash storage and conveying system from 20 to 200 MT capacity.
Microwave moisture meter.
Computer SCADA system with software.
Redial Conveyor Belt for Agg. Feeding
| | | | | | |
| --- | --- | --- | --- | --- | --- |
| Description | Unit | ALT-BIN-45 | ALT-BIN-60 | ALT-BIN-90 | ALT-BIN-120 |
| Concrete Output | M3/hr. | 45 | 60 | 90 | 120 |
| Type of mixers | | Pan/Twin shaft | Pan/Twin shaft | Twin shaft | Twin shaft |
| Input/ Output capacity | Litter | 1500/1000 | 2250/1500 | 3000/2000 | 4500/3000 |
| Output Batch | M3 | 0.75/1 | 1.0/1.5 | 2 | 3 |
| Mixer Motor Power | HP | 50/60 | 50/80 | 50x2=100 | 75x2=150 |
| Nos. Aggregate Bin | Nos. | 4 | 4 | 4 | 4 |
| Capacity of Each Bins | M3 | 15 | 25 | 30 | 30 |
| Aggregate waiting hopper on mixers | - | Yes | Yes | Yes | Yes |
| Elevating conveyor for aggregate Dish | - | Yes | Yes | Yes | Yes |
| Weighing system | - | Electronic –digital | Electronic –digital | Electronic –digital | Electronic –digital |
| Aggregate scale | Kg | 2500 | 3750 | 5000 | 7500 |
| Water scale | Litter | 300 | 450 | 600 | 900 |
| Cement scale | Kg | 600 | 900 | 1200 | 1800 |
| Additive scale | Litter | 100 | 100 | 100 | 150 |
| Water connection | Die | 2' | 2' | 2' | 2' |
| Greasing System | - | Automatic | Automatic | Automatic | Automatic |
| Air Compressor | HP | 5 | 7.5 | 10 | 12 |
| Screw Conveyor | N.B. | 8' | 8' | 10' | 10' |
| Sod. Supply of Screw | Nos. | 01 | 01 | 01 | 01 |
| Moisture probe | - | Optional | Optional | Optional | Optional |
| Total Power | HP | 115.50 | 125.50 | 180 | 250 |
Contact Us
Plot No. 310, Village Mehtabgarh Nh-1 Rajpura,, Patiala, Punjab, 140401, India
Phone :+917259400371